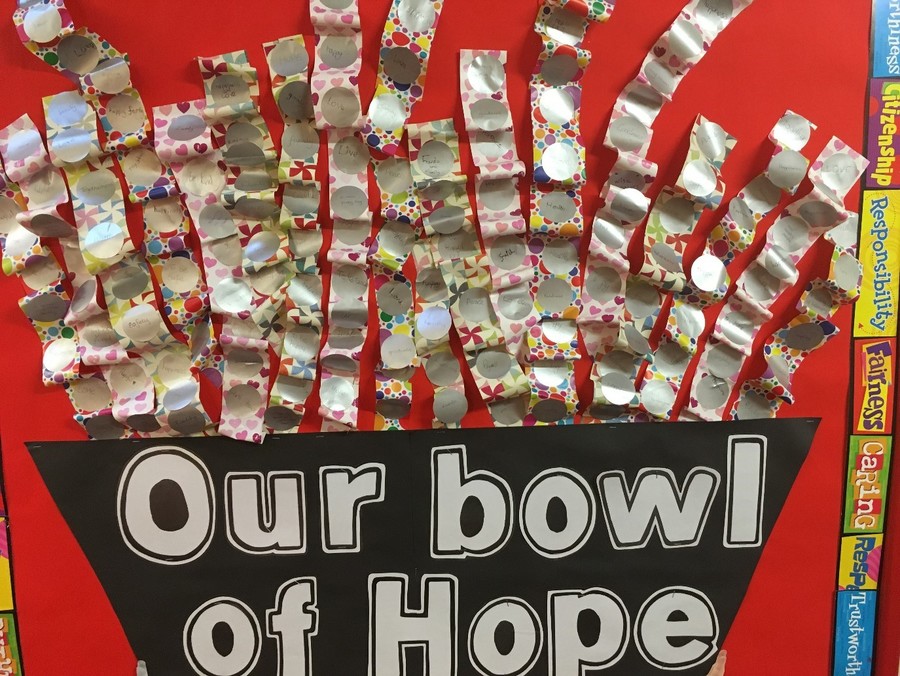 Christian Values
Christian Values 2016/17
At our school we work on Christian Values. Last Year we worked on Koinonia, which means family and friendship.
This year we are working on the value of Hope. We have a bowl of Hope in our corridor, where everyone has written what they hope for. Our collective worship centres around Hope.
Hope for the future, hope for ourselves, hope for a world of happiness and kindness. We look at stories of hope all around us and stories of hope from the Bible.
Please could you click the link below and answer a few questions about Christian Values.
https://docs.google.com/forms/d/e/1FAIpQLSet0_X4NkS86joqLmSOPffTiMoqV7ZkpLPcm4uK196V1Sq6rw/viewform
As a staff we have devised a scheme of work for British Values that links to the Christian Values that we teach. Please click the link below to view the document.
British values linked to Christian Values
Christian Values 2015/16
We are working on Christian Values at Harworth Church of England Academy.
Christian Values work alongside the Lifesavers project, with Collective Worship focussing on Generosity and Wisdom this term. We are also working on Koinonia which is a thread that is always present in our school life.
Please look at the Christian Values website for more information.
Christianvaluesforschools.org.uk
The Christian value we are focusing on this year is Koinonia.
Our Collective Worship is centred around this value for the Spring and Summer terms 2016.