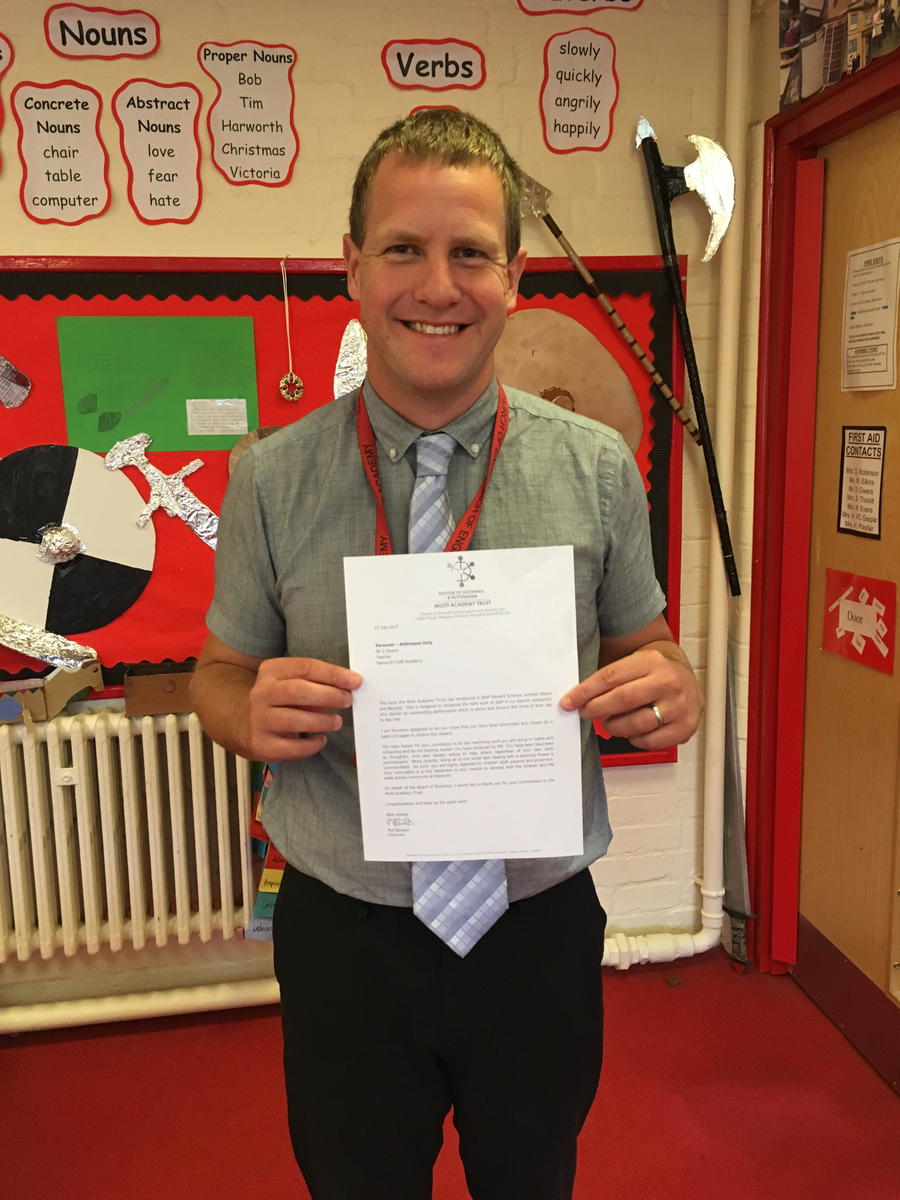 Congratulations Mr Owens
Mr Owens has won an award from our Multi Academy Trust for his outstanding dedication and hard work as a teacher. Congratulations - we are so proud of you! Click here to read his award letter.
MacMillan Coffee Morning
Many thanks to parents and carers who organised and attended our Macmillan coffee morning on Friday 28th September. It was lovely to see so many of you there and the total raised was £71 for the charity.
Cadbury World
Class 4 had a wonderful time on their educational visit to Cadbury World on Thursday 27th September. They learnt all about the Mayans and enjoyed sampling chocolate along the way!
Oliver Twist
Year 5 enjoyed a visit to the Cast Theatre for the evening performance of Oliver Twist on Tuesday 26th September. The children loved watching it and it was a great first theatre experience for many of them.
Coal Mining Museum
Year 6 had a superb day at the National Coal Mining Museum on Tuesday 25th September. They enjoyed going down the mine to find out what life was like as a miner. Their behaviour was outstanding, many members of the public and staff commented on how wonderful they were. Well done Class 6 - proud of you all.
Roald Dahl Day
Year 4 celebrated Roald Dahl Day by dressing up as different characters from his books. They all looked absolutely amazing and it was a great day!
Butterfly House
Year 1 visited the Butterfly House on Thursday 20th September to learn all about minibeasts. They had the opportunity to touch lots of different creatures and learnt lots of interesting facts.
Perlethorpe
Year 5 enjoyed an educational visit to Perlethorpe on Wednesday 19th September as part of their topic on the Victorians. They had an amazing day and learnt what it was like to be in a Victorian school.
Bikeability
Congratulations to Year 4 pupils who passed their Bikeability on Tuesday 18th September. On such a windy day they all did incredibly well and their behaviour was superb. Well done!
Licensing Service
Thank you to the children, past pupils and parents who attended the Licensing of Reverend Nicky on Monday 17th September at church. It was an extremely special service and the children sang beautifully. We look forward to welcoming Reverend Nicky into our school family.
Welcome back
Welcome back to the start of the academic year 2018-2019. It has been lovely seeing everyone as well as meeting new families and parents.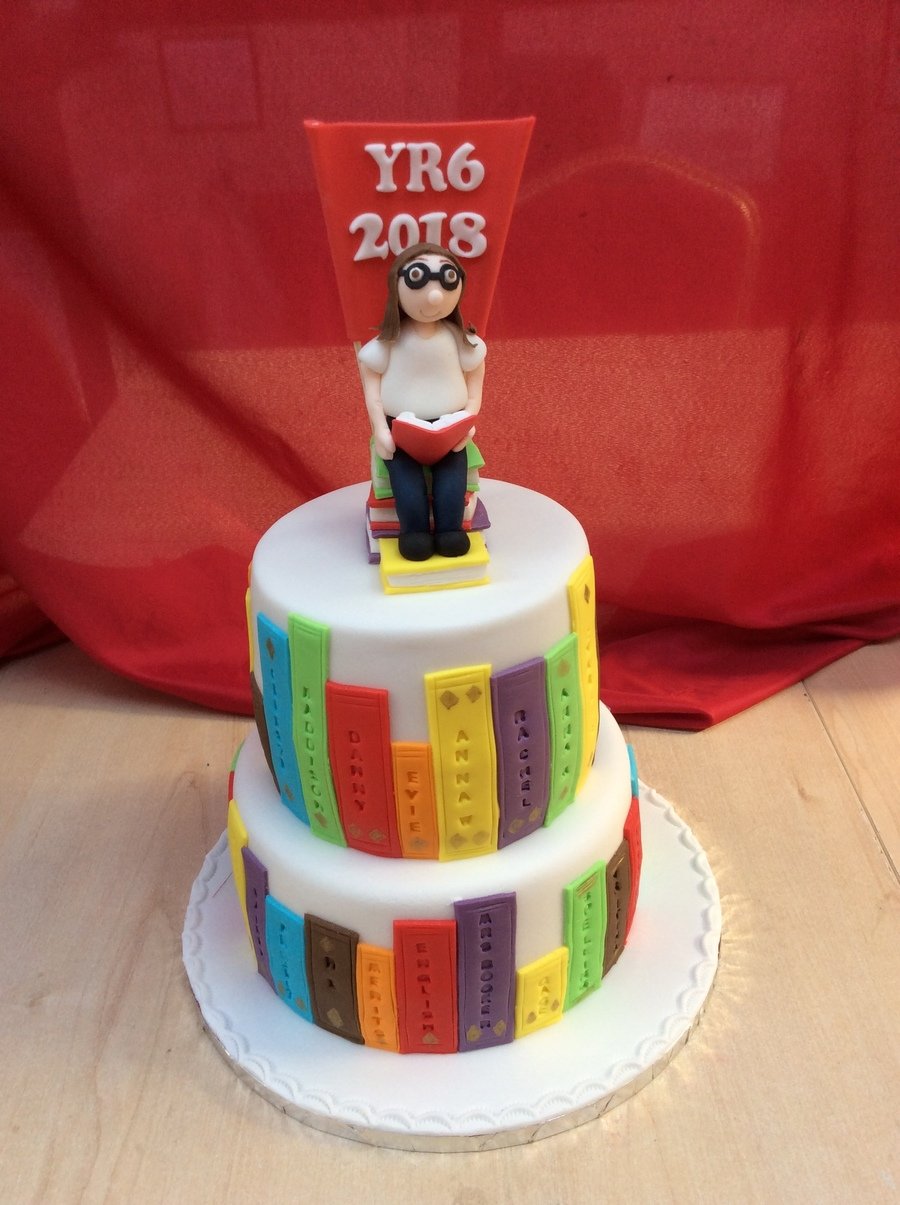 Leavers' Pizza
Year 6 enjoyed a lovely evening after school celebrating the end of their primary school journey with all the staff on Tuesday 24th July. There was plenty of fun and laughter as well as pizza. A huge thank you to Mrs Williamson who made a fabulous cake for Year 6 to enjoy. It was a shame to cut it but everyone agreed that it tasted amazing!
Coffee Mornings
Thank you to everyone who came to the coffee mornings on Thursday 19th and Friday 20th July. All the children sang beautifully and it was lovely to see you all.
Sports Morning
Well done to everyone who took part in the races during the morning of Tuesday 17th July. It was a great atmosphere. Thank you to all who came to watch.
Dare Graduation
Congratulations to all the Year 6 pupils who took part in their DARE Graduation on Monday 16th July. It was a fantastic afternoon with the children presenting their learning in the form of poems, PowerPoints, songs and plays. They all received a certificate from DARE Officer Lindsey who had taught the children over the last 10 weeks.
Leavers' Day
Year 6 enjoyed a day at Southwell Minster on Thursday 12th July. It was an opportunity to reflect on their primary school journey and share their memories. Well done to all the Year 6 pupils for being so polite and sensible around the minster.
Super SATS results
Well done to our Year 6 pupils who received their amazing SATS results on Tuesday 10th July. We are so proud of each and every one of you.
School National
Maths 100% 76%
Writing 96% 78%
SPAG 96% 78%
Reading 93% 75%
Combined 93% 64%
Year 4 Visit
Year 4 visited Sandall Beat Wood on Wednesday 27th June. They built shelters and enjoyed cooking on an open fire. Well done to everyone for such an amazing day.
Year 1 Visit
Year 1 visited the Butterfly House on Wednesday 20th June. They had a fantastic day and their behaviour was amazing as always.
Urban Gongs
Key Stage 2 watched a performance by
Urban Gongs on Tuesday 12th June.
They played different instruments
from West Africa and sang a song
called "I want to be free". Year 6 then
spent Wednesday 13th June composing
and singing their own performance of a
rap. We look forward to hearing the
recording very soon.
African Dancing
Each class enjoyed a session of African dancing based on the football World Cup on Tuesday 5th June. It was great fun!
Royal Wedding
A themed dinner was served at lunchtime on Thursday 17th May to celebrate the wedding of Prince Harry to Meghan. Many of the children enjoyed making crowns and tiaras to wear and the pupils were even served by members of the Royal Family including The Queen!
Laverick Award
Congratulations to Toby who was presented with the Laverick Award on Tuesday 15th May by East Midlands Ambulance Service during a special Collective Worship. Click here for photographs and interviews from the event.
RE Inspection
We were given an Outstanding grading and we are very pleased with the report.
NSPCC Thank You
The NSPCC visited school today (Friday 11th May) to thank everyone for raising an amazing £1791 during our sponsored events. We would like to pass on our thanks to you all for supporting this charity and raising such a fantastic amount. Well done to Class 6 who were presented with a certificate for bringing in the most sponsor forms.
Olympian Visits
We were very privileged to have 2 times Olympic medal winner Bryan Steel (Cyclist) visit us this afternoon (Tuesday 24th April) to talk to the children about his career, inspire them to believe in themselves and to never give up or try something new even if it seems a little bit scary.
The children then had a Q & A session in smaller groups where all of the children asked great questions and listened to everything Bryan had to say.
Thank you to Bryan for inspiring our children.
Thank you to all of the children for your amazing questions!
DARE
The Year 6 pupils started their DARE programme today (Friday 20th April) with DARE Officer Lindsay. They learnt about how to make the correct choice by assessing the situation. It was a fantastic session and the children's responses were brilliant. They are looking forward to their next session already! The DARE Graduation takes place on Monday 16th July at 2pm for Year 6 parents/carers.
Stay and Learn
Thank you to all our parents/carers who supported this session (Friday 20th April). We hope you enjoyed your visit to school today.
NSPCC
The NSPCC visited school on Thursday 19th April to lead our assemblies with their Speak Out, Stay Safe programme. The children found them extremely informative and helpful.
Passion Play
Thank you to the children who took part in the Passion Play in church on Easter Sunday. A special thank you to Ann Wilson, one of our governors, who spent time rehearsing with the children in the lead up to the service.
Easter Collective Worship
Archdeacon David Pickon led our Easter worship on the last of day of term. It gave everyone the chance to reflect on this important time of year in the Christian calendar.
Year 6 Residential
Year 6 had a brilliant time at Peak Venture. They enjoyed raft building, the leap of faith, scrapheap challenge and the zip wire. As always, their behaviour was outstanding and they created many happy memories to look back on in years to come. Click here for further details and photographs.
Easter Egg Hunt
Thank you to the School Council for organising the Easter Egg Hunt in the playground. It was great fun! Well done to the winners of our Easter Prize draw.
Coffee Mornings
Thank you to everyone who came to support our Easter Coffee mornings. The children enjoyed performing their songs and poems to you. A big thank you to our HAPPI group who organised our Easter raffle.
Trinity Pilgrimage
The whole school spent a morning reflecting on The Trinity. Each class had a picture to inspire them to create artwork and big questions. It was a peaceful and thoughtful time for everyone.
Sports Relief
On Friday everyone dressed up in their sports kit. In the afternoon we had the first inter-house competition of the year showing off our balancing and throwing skills.
Thank you to Class 6 for your amazing help it was very much appreciated by Mrs Potton.
Well done to all of the children you were all brilliant!
World Book Day
Thank you to everyone who dressed up for World Book Day. There were some fantastic costumes!
Safety Competition
Congratulations to everyone who entered our safety poster competition. All the entries were judged by Ann Wilson and Canon Peter Dadd and the winners were presented with prizes in our whole school assembly. Look out for the winning posters around school.
Peacemaker vests
A huge thank you to the HAPPI group for buying our new 'Peacemaker' vests. They are in use already and the children feel proud to wear them at playtime.
World Religions Morning
The whole school spent time reflecting on the major world religions during our pilgrimage. They had the opportunity to ask questions and experience the different music, artefacts and photographs from each religion.
Ash Wednesday Service
The children, accompanied by many of the staff, walked to church on Wednesday morning to take part in the Ash Wednesday service led by Canon Peter Dadd. It was an important occasion in the Christian Church as we begin the journey towards Easter. The children were attentive throughout the service; listening to the teaching, joining in the responses and raising their voices to join with the congregation to sing the hymns. As they went to the altar to kneel and receive the ash cross, they were reflective returning to their seats in silence. As always, the pupils were a credit to the school.
Football win!
Well done to the girls' football team who won their home match 9-0. They looked great in their new kits too!
Congratulations Isaac and Ava
Well done to Isaac and Ava who took part in a debating competition at the Elizabethan Academy. They came second and we are extremely proud of them both.
Class 1 Pet
Class 1 were very excited when they arrived at school on Friday 2nd February as 4 new fish were in the tank.
The children voted on names and our fish are called Obb, Bob, Thing 1 and Thing 2.
All children will feed and care for our fish.
Class 1 Library Visit
Class 1 have again been to the local library. We met up with Julie, the Librarian, again who read us the story called Poles Apart.
We used the machine to take out a book to read at home.
We all are now members of the library and enjoy our half termly visits.
The Vikings are coming!
A big thank you to everyone who supported their child's participation in today's visit by the Jorvik Vikings. The children looked absolutely fantastic in their Viking costumes and enjoyed their 'authentic' packed lunch. The photos from the day are on Class 4's page (click here) however, I should warn those of a delicate disposition that it involves battles, attacks, leeches and maggots! I am pleased to say that despite the photographic evidence, all the children survived the day and went home in one piece!
Hinduism Experience
Today one of our classrooms was turned into a Hindu temple. Classes 3 and 5 got to experience what a Mandir feels like and were also able to find out about different stories from the Hindu faith. A fabulous day!
Miners' Window
Thank you to pupils who took part in a special church service to celebrate the new stained glass window. It was a lovely service and we were even featured on Look North.
The National Holocaust Centre
Class 6 spent a reflective day learning all about what it was like to live as a Jew during World War II. Their behaviour, as always, was outstanding and the centre staff complemented the class on their excellent history knowledge. Please click here for photographs.
Young Voices 2018
Wow! What another successful and amazing performance at the Young Voices Concert 2018.
38 year 4, 5 and 6 children took part this year and were all fantastic representatives for our school.
We sang many different songs including The Call, Why we Sing, Pop Medley, Africa and many more!
We hope all of our parents, families and friends could see us and certainly hear us as we were mentioned in the introductions!
Thank you so much to our fantastic children for all of their hard work. When asked if they want to go again of course the answer was YES!
Thank you to all of you who attended, to Mrs Hellewell, Signify UK, for kindly providing us with a great banner making us visible and for organising the parent bus.
Finally thank you to all of our staff for ensuring your children had the best experience!
Same again next year?
Black Beauty
Class 6 enjoyed watching a performance of Black Beauty at Lakeside Arts in Nottingham on Friday 15th December. Their behaviour was outstanding and it was a fantastic afternoon.
Key Stage 2 Coffee Morning and Christmas Jumper Day
It was lovely to see so many of you on Friday 15th December at the Key Stage 2 Coffee Morning. The children really enjoyed singing their Christmas carols and songs to you all. Everyone looked great in their Christmas Jumpers too.
Christmas Fair
Thank you to everyone who supported the Christmas Fair on Tuesday 12th December. £297.76 was raised for school funds.
Smartie Tubes
HAPPI group would like to thank everyone who returned their Smartie tubes filled with coins. £143.41 has been raised for their funds.
Polio Assembly
Thank you to Mr Swincote from the Rotary Club who visited Class 5 and 6 on Wednesday 29th November to discuss the End Polio Now campaign.
Children in Need
Thank you to all our children who came dressed in non uniform to support Children in Need. We raised a fantastic £185.
Recycling Play
Class 6 performed a play in a day called 'Reduce, Reuse, Recycle' on Friday 3rd November. They learnt all about recycling as well as rehearsing a play that was performed to pupils, staff and parents. It was a great experience for everyone involved.
Remembrance Assembly
Mrs Hickman visited us on Thursday 2nd November to launch our Poppy Appeal. She explained the importance of wearing a poppy and what it means. Poppies are available from the School Office if you would like to make a donation.
OFSTED Inspection
On Wednesday 1st and Thursday 2nd November OFSTED inspected our school. Our children were as amazing as always and were so proud to show off our fantastic school. Thank you to parents and carers who completed surveys or answered questions during the inspection. We will share the report with you as soon as it is published.
Fashion Show
On Wednesday 1st November staff, children and parents took part in a fashion show. Thank you to all the models and to everyone who came and supported the event. It was a fantastic evening and it raised £380 for Lyra. Well done everyone.
Governor Day
Thank you to all our governors who spent time in our classrooms on Thursday 19th October. It was lovely to see you all.
Local Library visit
Class 1 had a lovely story with Julie the Librarian today 13th October. The children listened carefully and answered lots of questions about the text.
Remember next time we visit to bring your card!
Stay and Learn
Thank you to all our parents and carers who attended our first Stay and Learn session of this academic year on Friday 13th October. It was lovely to see so many of you and we hope you enjoyed the opportunity of seeing what happens during lessons and joining us for one of our weekly Merit Assemblies.
Jumping on my shadow
Classes 4, 5 and 6 watched a performance all about refugees on Monday 9th October. It was a really interesting production and made us think about the world around us.
RNLI VISIT CLASS 1 - Monday 9th October
Today Class 1 had a visit from Skipper (Janet Cutts) a volunteer from the RNLI to teach us about water safety, lifeboats and how to keep safe at the beach.
The children asked some good questions and really enjoyed the session.
See our class page for more details.
Class 1 - Geography Field Trip
Class 1 had a fantastic field trip around the local area.
We walked from our school to the Fire Station to meet Fireman Gary then to the Library. We then crossed the road to the Town Hall and Police Station where we met P.C. Martin. This was then followed by a long walk to the Church where 2 of our Governors and Church Wardens Mr Batty and Mrs Wilson talked to us about our Church.
We were all very tired but had a fantastic visit - visit our class page for more information and photos!
We would like to thank two of our Governors, Mr Martin and Mrs Wilson for accompanying us on our visit.
Sponsored Skipping
The whole school enjoyed an afternoon of skipping on Friday 29th September in aid of the British Heart Foundation. Please return sponsor forms and money as soon as possible. Thank you.
Macmillan Coffee Morning
Thank you very much to everyone who made buns and came along to the coffee morning on Friday 29th September. It was lovely to see everyone and we raised £70 for the charity.
Brackenhurst
Class 3 visited Brackenhurst on Wednesday 27th September as part of their Stone Age topic. They spent time in the forest building dens and creating stone age paintings. It was a fantastic day.
Coal Mining Museum
Class 6 had an amazing time on Tuesday 26th September when they visited the National Coal Mining Museum. They loved going 140ft underground. to find out what life was like as a miner. A fantastic day.
Cadbury World
Year 4 visited Cadbury World on Monday 25th September to learn all about how chocolate was discovered. It was a great day full of amazing experiences.
Recycling
Key Stage 2 classes learnt all about recycling on Monday 25th September. They had the opportunity to sort the rubbish and think about the effects on the environment. A really interesting day.
World Peace Day
Thank you to everyone who dressed in green and brought a donation in to school on Thursday 21st September to celebrate World Peace Day. We have raised an amazing £157.25 and School Council have chosen to donate the money to Greenpeace. Thank you to everyone who took part.
Harvest Festival
We had a fantastic Harvest Festival service in school on Wednesday 20th September. The children sang beautifully and it was lovely to see so many parents. Thank you to Reverend Frank for leading the sermon and to everyone who brought in Harvest Gifts which have been donated to Bassetlaw Food Bank.
Foundation Stage visit Southwell
On Tuesday 19th September Foundation Stage visited Southwell. They had the opportunity to build dens and collect herbs to make perfumes. A good time was had by all!
Roald Dahl Day
Year 4 enjoyed a Roald Dahl Day by dressing up as different characters from his books. They all looked amazing and had a great day!
Perlethorpe
Class 5 travelled back to the Victorian times on their visit to Perlethorpe on Friday 8th September. They had the opportunity to dress up in Victorian costume. See Class 5's page for the photographs.
Pinocchio
Everyone had a fantastic time watching the Pinocchio performance in school on Thursday 7th September. It was full of songs, comedy and action and a good time was had by all.
Tour of Britain
We all enjoyed watching the Tour of Britain cycle race go past our school on Wednesday 6th September. It was amazing to see all the riders and wave our flags to wish them luck.
Welcome to our new school year
It has been lovely welcoming everybody back to our school and we warmly welcome all our new pupils and parents. We also welcome Mr Edwards as the new Year 3 class teacher.