News and Events from 2016-2017
Latest News
Winning House Team

Taster Day

Stay and Learn

Belton House

Red Nose Day
Further Articles »
On Thursday 14th July, Debbie and Theresa from Bassetlaw Mental Health Services for Older People came to collect the 'Twiddle Mittens' Class 4 made in their DT lessons. For more information visit Class 4's page.
Sunday 17th July
Children,parents and staff had a very enjoyable day in Cleethorpes .We had a super day even though it was a little too hot at times. Thank you to all who supported this day. We would like to do this again next year so watch this space. If you have any suggestions for future trips out please let us know.
Monday 18th June
DARE graduation for our year 6
This afternoon our year 6 pupils performed their DARE Graduation in front of their parents and carers. The Graduation involved DARE reports, poems, role-play's and songs that the class had created themselves. The DARE Graduation was the culmination of a ten week programme led by Mr Warren who taught the class all about peer pressure, friendship, anti-bullying, volatile substances, drug and alcohol abuse.
The children really enjoyed the sessions and learnt valuable lessons to take into secondary school.
Goodbye to our amazing Year 6 pupils
Good luck to all our Year 6 pupils and their families who leave us at the end of this academic year. It has been a pleasure working with you all throughout the years. Please come back and visit us in September.
Well done to Years 5 and 6 for performing so well in the Leavers' Service. It was an emotional service but one that the pupils will remember for years to come.
Year 6 and all the staff enjoyed pizza after school on Monday 24th July to celebrate their primary school journey. Thank you to Mrs Williamson for making such a fantastic cake to celebrate their achievements - it was delicious!
Retirement Celebrations
Thank you to everyone who came to the coffee mornings and events to celebrate Mrs Thickitt's and Mrs Richards' retirement. The children sang and performed beautifully - well done!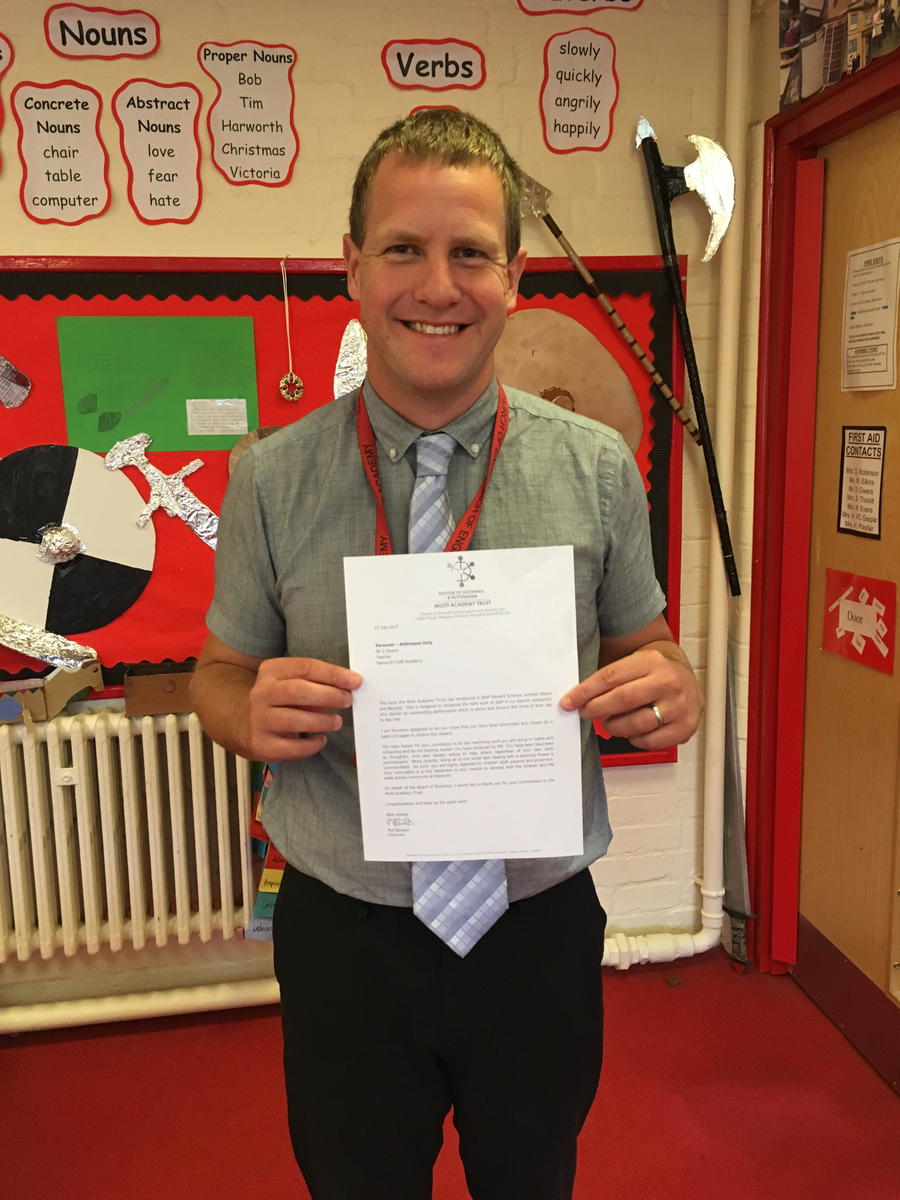 Congratulations Mr Owens
Mr Owens has won an award from our Multi Academy Trust for his outstanding dedication and hard work as a teacher. Congratulations - we are so proud of you! Click here to read his award letter.
Cycling Proficiency
Congratulations to Year 6 pupils who passed their Level 2 and 3 cycling proficiency. They received a badge and a certificate which were presented to them in school - fantastic achievements!
Our super SATS results
A huge congratulations to Year 6 who achieved amazing SATS results this week.
Maths 100% National 75%
Writing 100% National 76%
Reading 93% National 71%
SPAG 89% National 77%
Combined 93% National 61%
We are so proud of each and every one of them who worked so hard all year. Well done!
School Clubs
As our clubs are coming to an end we would like to say well done to the following groups:
Sewing Club

Running Club

Singing Club

Football
National School Sports Week
This week we are celebrating all things sporty!
Monday: Balance bikes
Tuesday - Thursday: House competitions..will your house be the winning team?
Friday: Orienteering afternoon.
Remember on Friday we are having a sports man's breakfast with fresh fruit at the usual price of £1.
Summer Fayre
A fantastic £415.20 was raised at our Summer Fayre. A huge thank you to the HAPPI group for organising it, as well as staff, parents and pupils for their help and support. It was a really successful event.
Year 4 Visit
Year 4 loved their visit to the Galleries of Justice in Nottingham.
Foundation Stage Visit
The class had an amazing visit to The Deep and loved learning all about 'Under the Sea'.
We wish you all a Happy Easter and a lovely holiday.
Class 2 Visit
Class 2 enjoyed a visit to the Fire Station to link in with their topic about The Great Fire of London.
Red Nose Day
Everyone enjoyed wearing their red noses and coming in non uniform to celebrate Red Nose Day. We raised an amazing £164.95 for Comic Relief. Thank you for your support.
Easter Coffee Mornings
It was lovely to see you all at our Easter Coffee Mornings. The children really enjoyed taking part and it was a super way to celebrate.
Lent Course
Over the past few weeks Class 5 and Archdeacon David have led us in collective worship which was also attended by parents, carers, grandparents, staff and governors. Many also participated in the Lent course following the worship.
World Book Day
Thank you to everyone who dressed up for World Book Day on Friday 3rd March. Everyone looked fantastic and enjoyed sharing their books together in class.
Ash Wednesday
Class 6 visited church to take part in an Ash Wednesday service led by Bishop Paul. They were fully engaged in the service and were presented with a certificate from the Bishop to celebrate this special event. Please click on the link below to read the full write up.
The Vikings come to school!
On Tuesday 28th February the Vikings visited Class 4 from the Jorvik Centre for a day of activities. Children and staff looked amazing in their costumes and enjoyed a Viking lunch together.
Firefighters visit school
The firefighters came to school all day on Friday 24th February. Each class learnt about keeping safe from fire and had the opportunity to go on the fire engine. Some children even squirted water from the hoses. Thank you to our local fire station who always work so hard with us.
Friday 10th February INSET TRAINING DAY
Staff from our school and the local family of schools had a joint training day here in school. The focus of the day was around the philosophy developed around some key principles for managing behaviour with an emphasis on teaching positive behaviour. We explored examples of challenging behaviour and discussed our responses to it. It was an inspirational day.
Stay and Learn
We have enjoyed sharing our learning with parents/carers in stay and learn sessions over the past two weeks. There have been some really positive comments on the completed evaluations and we would like to thank everyone who has supported these sessions.
Cycling In Year 3 and 4
Class 3 and 4 have enjoyed their cycling sessions this week. The providers said that the children's behaviour was fantastic - they all listened carefully and were extremely polite. Well done everyone!
Congratulations!
Amelia and Sofia (Class 5) have both passed their Grade 1Clarinet Examination (ABRSM) with flying colours. Well done to both girls!
Wow! What a night!!
29 of our young people took part in 'Young Voices' at Sheffield Arena.
They were part of a choir of 5,123 who sang and danced. They were accompanied by a professional band who played rock, pop and swing music.
Also on stage with them were:
Natalie Williams, a soul/jazz singer, whose usual venue is Ronnie Scott's Jazz Club. She has performed with and alongside Amy Winehouse, John Legend, Lemar and many others.
Tabby Callaghan, a singer and guitarist. He was chosen by Sharon Osbourne to be her protege on X Factor. He has worked alongside Rod Stewart and Elton John to name but 2. He also recorded on Ozzy Osbourne's album 'Undercover.
The Beatbox Collective, 2015 World Beatbox Champions!
Urban Strides, street dance specialists. They were the first crew in the world to open The Royal Variety Performance in the presence of Her Majesty The Queen.
If anyone would like a DVD of tonight's performance they can be purchased on line from: www.youngvoices.co.uk
Download the official Young Voices app for free from the Apple App store or Google play.
'A night I will remember and I am sure the young people will remember forever!!'
Mr. Iles.
Christmas 2016
We hope you all have a very happy and peaceful Christmas. It has been lovely to see you all at our various Christmas events.
A Huge Thank You!
Just to thank you all for supporting our charities this term .Since September we have supported our school in Gambia by dressing up in colours of the Gambian flag,wearing our jeans for Genes for Jeans day, non uniform day for children in need, attending our Macmillan coffee morning, sending in shoeboxes for Love in a box, buying poppies for Poppy day and wearing our Christmas Jumpers for save the children.
Once again a great big thank you
Love in a Box
Thank you to everyone who brought in shoeboxes for Love in a Box. They have been collected from school and will be sent to countries who are a lot less fortunate.
Christmas Lights
Well done to all the children who sang at the Christmas Lights switch on at the Town Hall last night. Everyone sang beautifully. Thank you for supporting this community event.
Children in Need
Thank you to everyone who supported Children in Need last Friday. We raised an amazing £150.10 for the charity.
Foundation Stage phonic and reading meeting
Thank you to all who came to this meeting, we hope you found it informative and useful.
York shopping trip for parents
Thank you to all parents ,grandparents and friends who supported this day. We enjoyed it ,the weather was kind to us and lots of Christmas shopping was done!
Aldi Bag Pack
Thank you to everyone who supported our bag packing fundraiser at Aldi on Saturday. We raised an amazing £448 for bike racks for school. Click here to visit the School Council page for further details and photographs.
Fire Service Visit
A huge thank you to Harworth and Bircotes Fire Service who visited us today to continue to strengthen our community links. They joined us in our merit assembly to talk about the Firework Code and how to stay safe at bonfire night. We all learnt how to Stop, Drop and Roll. After the assembly we all had the opportunity to listen to the fire engine sirens as the firefighters left. It was very exciting!
The Queen's 90th Birthday