Keep up to date with all our news and calendar events on your smartphone or tablet. Click on the link below to download our mobile app for Android or IOS. Once installed search for our school by name or postcode.
Follow us on Twitter by searching for Harworth Academy. Click below to see our recent tweets.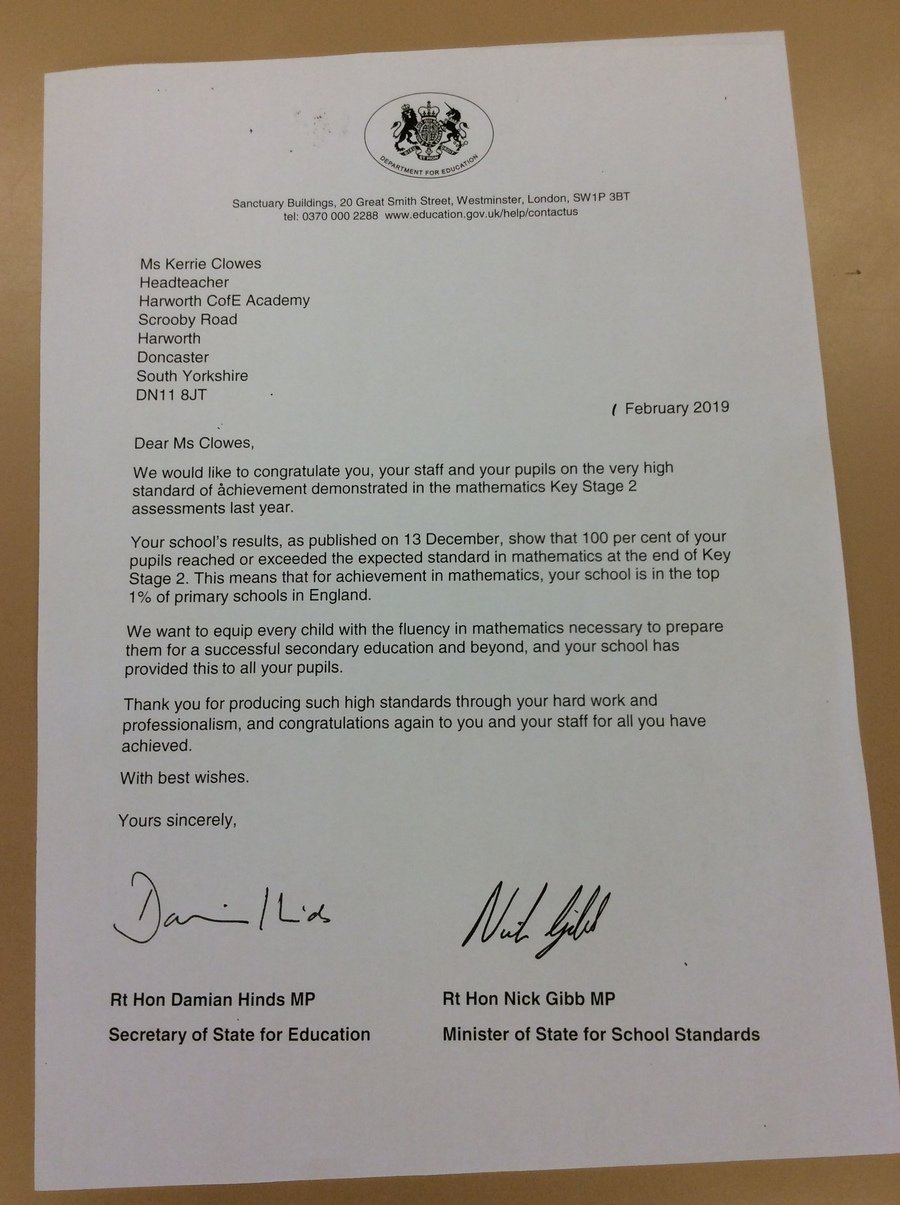 We were so proud when this letter arrived to say that we are in the top 1% of schools for mathematics. What a fantastic achievement by everyone.
Winning House Team
Congratulations to Meridian who earned the most house points this term. They enjoyed spending time together having their reward this afternoon. Well done!
Taster Day
Class 5 had great time having a taster day at Serlby Park Academy! They made bath bombs in the science lesson, played and performed a song in a music lesson, and made biscuits during a cookery lesson.
Stay and Learn
Thank you to all our parents/carers who attended our Stay and Learn session on Friday March 22nd. We hope you enjoyed spending time in class and joining us for our weekly Merit assembly.
Belton House
Class 5 had a fantastic school trip to Belton House near Grantham! They have been studying the book 'Moondial' which was written by local author Helen Cresswell, which is set at Belton House. The children had a well deserved visit to the playground afterwards as well!
Red Nose Day
Thank you to everyone who donated money for Comic Relief. We have raised £150 for the charity.
Bikeability
Year 5 have had a great week learning how to ride their bike safely. Children who passed level 1, went on the roads to try and complete level 2 badge. Well done to the pupils and thank you to the instructors for a great course!
Harworth Colliery
Congratulations to the Under 11's Girls at Harworth Colliery who won the final on Saturday. We are so proud of them.
World Book Day
Well done to everyone who dressed up as their favourite character or brought their favourite book to school to celebrate World Book Day on Thursday 7th March.
Tenor Horns
Well done to everyone in class 5! The tenor horn concert for the parents was amazing on Friday 15th February. Thank you to Mr Iles for teaching and leading!
Stay and Learn
Thank you to all our parents/carers who attended our Stay and Learn session on Friday 15th February. We hope you enjoyed spending time in lessons and joining us for our weekly Merit Assembly. It was lovely to see you all.
Artsmark Award
We have just been awarded Artsmark Silver status by the Arts Council, England for our work in the Arts subjects (Art, Music, Dance, and Drama). Well done to staff, pupils and governors - another great achievement for our school! Click here for more information.
Holocaust Centre
Class 6 had an extremely reflective day at the National Holocaust Centre on Tuesday 22nd January. They asked some excellent questions and demonstrated their knowledge about World War II. Well done Class 6 - your behaviour was outstanding.
Viking Visit
Good news, Class 4 survived the visit by the Vikings from Jorvik on 15th January! Despite dung throwing, poisoning and stabbing, as well as a mighty battle, everyone ended up being friends. Thank you so much for all your hard work providing costumes and food, the children had a fantastic day!
Daily Boosts
Today (14th January) we started our new daily boosts. Each class follow a routine to music as a quick brain break in their sessions. Key stage 1&2 pupils will walk together for a few minutes after playtimes so they are ready to start their learning again. Making steps towards the Active 30:30!
Purple Day
Thank you to our amazing children for raising a fantastic £192.40 for Bluebell Wood Children's Hospice on Friday 11th January.
Thank you School Council for organising this event for us.
Young Voices
Wow!! Another amazing year at Young Voices on Wednesday 9th January!! Thank you to our amazing pupils and to our parents. We hope you enjoyed yourselves!
Secret Santa
What a fantastic morning in school on Thursday 20th December with our Secret Santa event. All the children enjoyed choosing a present for a loved one before having it beautifully wrapped by members of our HAPPI group and Governing Body. A huge thank you to everyone who helped and supported this.
Brailsford House
Class 6 sang Christmas carols and songs to the residents of Brailsford House on Monday 17th December. We are always given such a warm welcome and the children enjoyed chatting to the residents.
Christmas Parties
Classes enjoyed their Christmas parties
on Monday 17th and Tuesday 18th
December playing games, having party
food and dancing.
Christmas Jumper Day
We raised £176 for Save the Children on Christmas Jumper Day. Thank you to everyone for your support.
Reindeer
What a fantastic experience for the whole school - we had reindeer visiting us in for the day on Wednesday 12th December . We learnt lots of interesting facts and enjoyed spending time with the animals.
Singing Performance
Class 2 and Class 3 sang beautifully at their performance after school on 11th December. It was lovely to see so many of you supporting this event. Thank you to the HAPPI group for providing the refreshments.
Christmas Fayre
We made over £2500 at our Christmas Fayre on Monday 10th December, £408.50 at the Fayre and £2196 on the raffle. Many thanks to the HAPPI group for their support and help with this. It was a fantastic effort - thank you everyone.
Recycling Play
Class 6 enjoyed their recycling play in a day on Monday 3rd December where they learnt lots of facts about the environment. Thank you to all the parents/carers who came to watch their performance and to Konflux Theatre for teaching the children.
Junk4Funk
Class 4 enjoyed making 'rubbish' music with Victor Scott from Junk4Funk on Friday. They learnt about pitched instruments and each made a guitar out of recycled materials. Victor was very impressed with the children's knowledge and how well they followed the instructions.
Anne's Garden
A huge thank you to Neil at Clay Lane Construction for totally transforming Anne's Garden. It looks fantastic and we really appreciate parents/carers who came to help with this too.
Camp Redwood
Class 4 had an exciting visit to Camp Redwood on Wednesday 21st November. We were outside all day as there are no buildings. We learnt about the Pilgrim Fathers whose key leaders came from the local area. Thank you to our Governors who came with us. As usual, the children did us proud.
Children in Need
Thank you to everyone who came in non uniform on Friday 16th November for Children in Need. We have raised £186 for the charity - thank you.
Y4 Visit
Year 4 had a super day at Perlethorpe on Wednesday 14th November learning all about the Pilgrim Fathers. They enjoyed making and tasting corn bread as well as making shelters.
York Shopping Trip
Thank you to everyone who attended the shopping trip to York on Saturday. We hope you had an enjoyable day.
Southwell Minster
Year 6 had a superb day at Southwell Minster on Thursday 9th November. They spent time reflecting on Remembrance Day and the centenary of WWI through drama, songs and art. The children were outstanding, staff and members of the public commented on their fantastic behaviour - 'a perfect school'.
Stay and Learn
Thank you to all our parents and carers who attended our first Stay and Learn session of the academic year on Friday 26th October. It was lovely to see everyone and we hope you enjoyed your morning with us.
Poppy Assembly
Thank you to Mrs Hickman and Mr Harris who came to lead an assembly about Remembrance on Wednesday 24th October.
Cyberbullying
Key Stage 2 were visited by Coram Life
Education on Tuesday 23rd October to
continue to develop their knowledge
about cyberbullying. Important lessons
about staying safe online and offline
were learnt.
Brackenhurst
Class 3 had an amazing Stone Age themed day at Brackenhurst on Wednesday 17th October. The children demonstrated brilliant knowledge of history and were excellent ambassadors for our school.
Reverend Frank
Thank you to Reverend Frank who led our Collective Worship this week all about Fairtrade and recycling. It really made us all think about how small things can make a difference.
Clumber Park
Foundation Stage enjoyed a wonderful day in the sunshine at Clumber park on Wednesday 10th October. The children enthusiastically explored the woodland areas and enjoyed all of the activities linked to the story of Stick Man. Well done children. You were great representatives of our school!
Harvest Festival
Thank you to everyone who came to our Harvest Festival on Thursday 4th October. The children sang beautifully and it was lovely to see so many of you. Thank you for your generous gifts for Bassetlaw Food Bank.
Potteric Carr
Class 2 enjoyed their visit to Potteric Carr on Monday 1st October. They found many minibeasts and even a frog!
MacMillan Coffee Morning
Many thanks to parents and carers who organised and attended our Macmillan coffee morning on Friday 28th September. It was lovely to see so many of you there and the total raised was £71 for the charity.
Cadbury World
Class 4 had a wonderful time on their educational visit to Cadbury World on Thursday 27th September. They learnt all about the Mayans and enjoyed sampling chocolate along the way!
Oliver Twist
Year 5 enjoyed a visit to the Cast Theatre for the evening performance of Oliver Twist on Tuesday 26th September. The children loved watching it and it was a great first theatre experience for many of them.
Coal Mining Museum
Year 6 had a superb day at the National Coal Mining Museum on Tuesday 25th September. They enjoyed going down the mine to find out what life was like as a miner. Their behaviour was outstanding, many members of the public and staff commented on how wonderful they were. Well done Class 6 - proud of you all.
Roald Dahl Day
Year 4 celebrated Roald Dahl Day by dressing up as different characters from his books. They all looked absolutely amazing and it was a great day!
Butterfly House
Year 1 visited the Butterfly House on Thursday 20th September to learn all about minibeasts. They had the opportunity to touch lots of different creatures and learnt lots of interesting facts.
Perlethorpe
Year 5 enjoyed an educational visit to Perlethorpe on Wednesday 19th September as part of their topic on the Victorians. They had an amazing day and learnt what it was like to be in a Victorian school.
Bikeability
Congratulations to Year 4 pupils who passed their Bikeability on Tuesday 18th September. On such a windy day they all did incredibly well and their behaviour was superb. Well done!
Licensing Service
Thank you to the children, past pupils and parents who attended the Licensing of Reverend Nicky on Monday 17th September at church. It was an extremely special service and the children sang beautifully. We look forward to welcoming Reverend Nicky into our school family.
Welcome back
Welcome back to the start of the academic year 2018-2019. It has been lovely seeing everyone as well as meeting new families and parents.